Prevention and elimination methods of oil leakage of reducer:
a. The sealing ring gland adopts an easy-to-remove structure.
b. The sealing ring adopts an open structure.
c. The oil return hole at the input shaft bearing should be appropriately enlarged.
d. Aging treatment of the reducer housing can prevent the deformation of the housing and avoid oil leakage along the closing surface. At present, there are three aging methods, one is natural failure; the other is artificial aging; the third is vibration aging. It can be selected and processed according to actual conditions.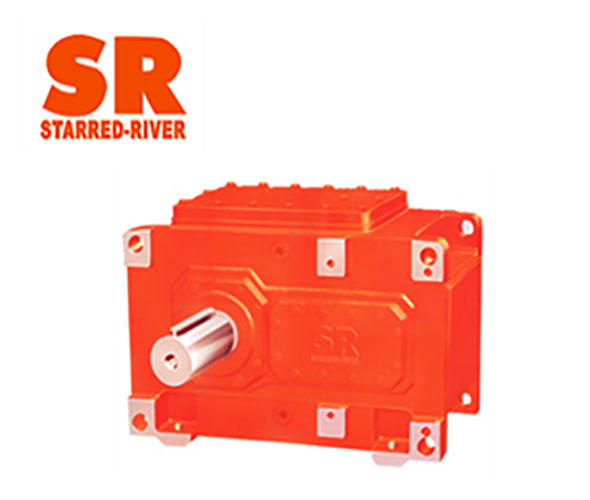 e. An annular oil groove is cast or machined on the closing surface of the reducer base, and there are multiple oil return holes connected to the annular oil groove. When the reducer is working, once the oil seeps into the closing surface, it will enter the annular oil groove, and then flow into the oil tank through the oil return hole, and the lubricating oil will not leak to the outside of the reducer housing along the closing surface.
f. When assembling the reducer, apply a layer of sealant (such as D05 silicone rubber sealant) on the closing surface to effectively prevent oil leakage at the closing surface.
g. The oil level of the reducer is too high, which not only increases the power loss of the gear stirring oil, and the splash of lubricating oil seriously increases the chance of oil leakage, but also causes the oil temperature to rise continuously, especially in summer, when the ambient temperature is high, the oil temperature will increase, and the lubrication The oil viscosity decreases, reduces the lubricating performance, increases the fluidity and leakage of the oil, directly affects the lubrication of gears and bearings, and reduces the service life. For this reason, the normal oil level must be maintained during use.
h. Install gaskets at the sight hole cover and the oil drain hole, and tighten the bolts.
l. Enlarge the oil return hole of the output shaft to prevent oil leakage of the output shaft.
j. Improve the vent cap and inspection hole cover. One of the main reasons for oil leakage is that the internal pressure of the reducer is greater than the external atmospheric pressure. If you try to balance the pressure inside and outside the machine, oil leakage can be prevented. Although the reducer has a vent cap, the vent hole is too small, which is easily blocked by dust and oil, and the inspection hole cover must be opened every time you refuel. Opening it once will increase the possibility of an oil leak, so that the original place does not leak. Leaks also occur. The ventilation holes can be enlarged to equalize the pressure inside and outside.