The worm gear reducer is a power transmission mechanism that uses the speed converter of the gear to reduce the number of revolutions of the motor to the required number of revolutions and obtain a large torque mechanism. It is mainly composed of transmission parts worm gear, shaft, bearing, box and its accessories. What problems should be paid attention to in the installation of worm gear reducer in daily life:


1. The worm gear reducer should be firmly installed on a stable and level foundation or base, the oil in the oil drain tank should be able to be drained, and the cooling air circulation should be smooth. The foundation of the worm gear reducer is unreliable, which will cause vibration and noise during operation, and cause damage to the bearings and gears. When there are protrusions in the transmission coupling or gears and sprockets are used for transmission, protective devices should be installed. When the output shaft bears a large radial load, the reinforced type should be selected.
2. Ensure that the staff can easily approach the oil mark, vent plug and oil drain plug according to the specified installation device. After the installation is in place, the accuracy of the installation position of the worm gear reducer should be comprehensively checked in order, and the reliability of each fastener should be able to rotate flexibly after installation. The worm gear reducer is lubricated by splashing oil in the oil pool. Before running, the user needs to remove the screw plug of the vent hole and replace it with a vent plug. According to different installation positions, open the oil level plug screw to check the height of the oil level line, add oil from the oil level plug until the lubricating oil overflows from the oil level plug screw hole, screw on the oil level plug to confirm that it is correct, and then empty it. Load test run, time not less than 2 hours. The operation should be stable, without shock, vibration, noise and oil leakage. Any abnormality should be eliminated in time.


3. When installing the worm gear reducer, attention should be paid to the centering of the transmission center axis, and the error should not be greater than the compensation amount of the coupling used. Good alignment can prolong the service life and obtain the ideal transmission efficiency.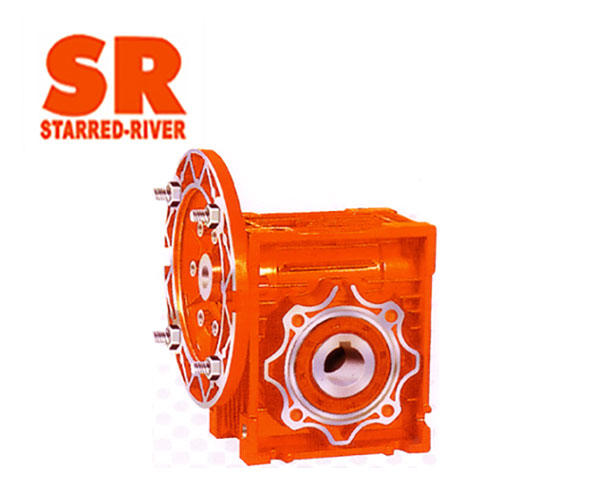 NMRV series worm gearbox (aluminum alloy box) is a kind of transmission machinery with compact structure, large transmission ratio and self-locking function under certain conditions. It is one of the most commonly used gearmotors. It is widely used in many industries and fields such as metallurgy, mining, transportation, water conservancy, chemical industry, food, beverage, textile, tobacco, packaging, environmental protection and so on.
Characteristics:
1). High-quality aluminum alloy casting, light weight and no rust;
2). Large output torque;
3). Smooth transmission and low noise;
4). High heat dissipation efficiency;
5). Beautiful and durable, small size;
6). Suitable for all-round installation.