Overview:
Cycloidal gear reducer is a novel transmission device that uses the principle of planetary transmission and adopts the cycloidal pin tooth meshing, so it is usually also called planetary cycloidal gear reducer. All transmission devices of the cycloid pin gear reducer can be divided into three parts: input part, deceleration part, output part. The machine is divided into horizontal, vertical, double-shaft and direct-connected assembly methods. Its unique stable structure can replace ordinary cylindrical gear reducer and worm gear reducer in many cases. Therefore, the cycloidal gear reducer is widely used in various industries and fields, and is generally welcomed by customers.
Technical parameters:
Power:

0.04 Kw ~ 75 kw

Torque:

200 N.m ~ 30000 N.m

Transmission ratio:

 

Single-stage reducer: 9, 11, 17, 21, 23, 25, 29, 35, 43, 47, 59, 71, 87.

 

Two-stage reducer: 121, 187, 289, 319, 385, 473, 493, 595, 649, 731, 841, 1003, 1225, 1505, 1849, 2065, 2537, 3045, 3481, 5133,7569
Characteristics:
1). Multi-stage transmission can be adopted, and the reduction ratio is larger.
2). Small size, stable operation and low noise.
3). Reasonable design, easy maintenance, easy to disassemble and install.
4). Reduction ratio of 1:87 can be achieved, and the efficiency is above 94%
5). Reliable and hardened (HRC58 ~ 62), so durable and long life.
Title:
Series of X、B series of parts of machine,Chemical Industrial Department.
Series of B、series of JXJ and series of mini WB
Model:
Single-stage horizontal double-shaft XW cycloid reducer: XW0, XW1, XW2, XW3, XW4, XW5, XW6, XW7, XW8, XW9, XW10, XW11, XW12
Single-stage horizontal direct-coupled XWD cycloid reducer: XWD1, XWD2, XWD3, XWD4, XWD5, XWD6, XWD7, XWD8, XWD9, XWD10, XWD11, XWD12
Single-stage vertical two-shaft XL cycloid reducer: XL0, XL1, XL2, XL3, XL4, XL5, XL6, XL7, XL8, XL9, XL10, XL11, XL12
Single-stage vertical direct-connection XLD cycloid reducer: XLD1, XLD2, XLD3, XLD4, XLD5, XLD6, XLD7, XLD8, XLD9, XLD10, XLD11, XLD12
Two-stage horizontal direct-connection XWED cycloid reducer: XWED20, XWED32, XWED42, XWED53, XWED63, XWED74, XWED84, XWED85, XWED95, XWED106, XWED128
Application area:
Cycloidal gear reducer adopts cycloid pin gear meshing, planetary transmission principle. This reducer can be widely used in the reduction mechanism of various transmission machinery such as heavy transportation, mining, metallurgy, petrochemical, food, pharmaceutical, textile printing and dyeing.
Product pictures: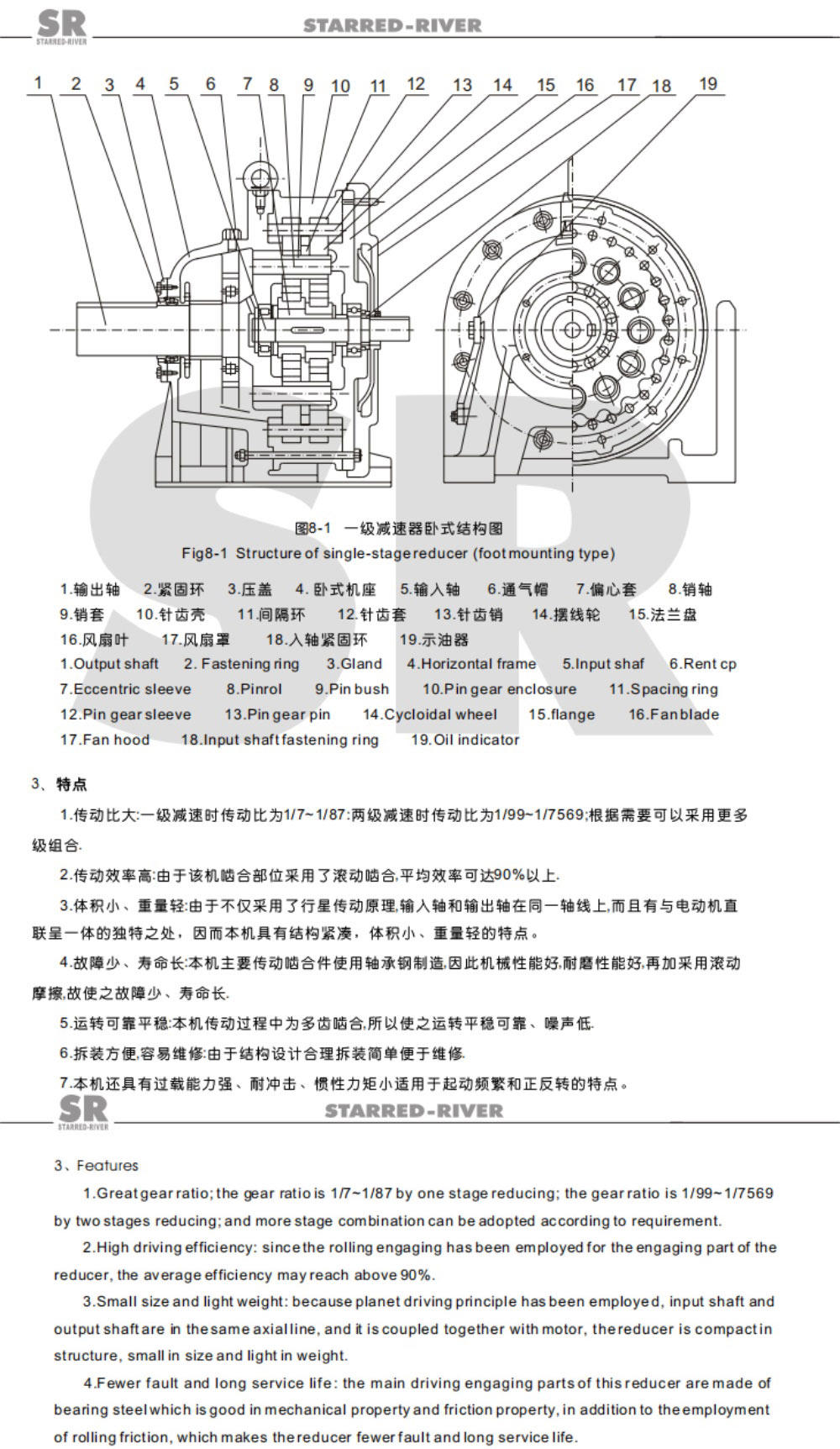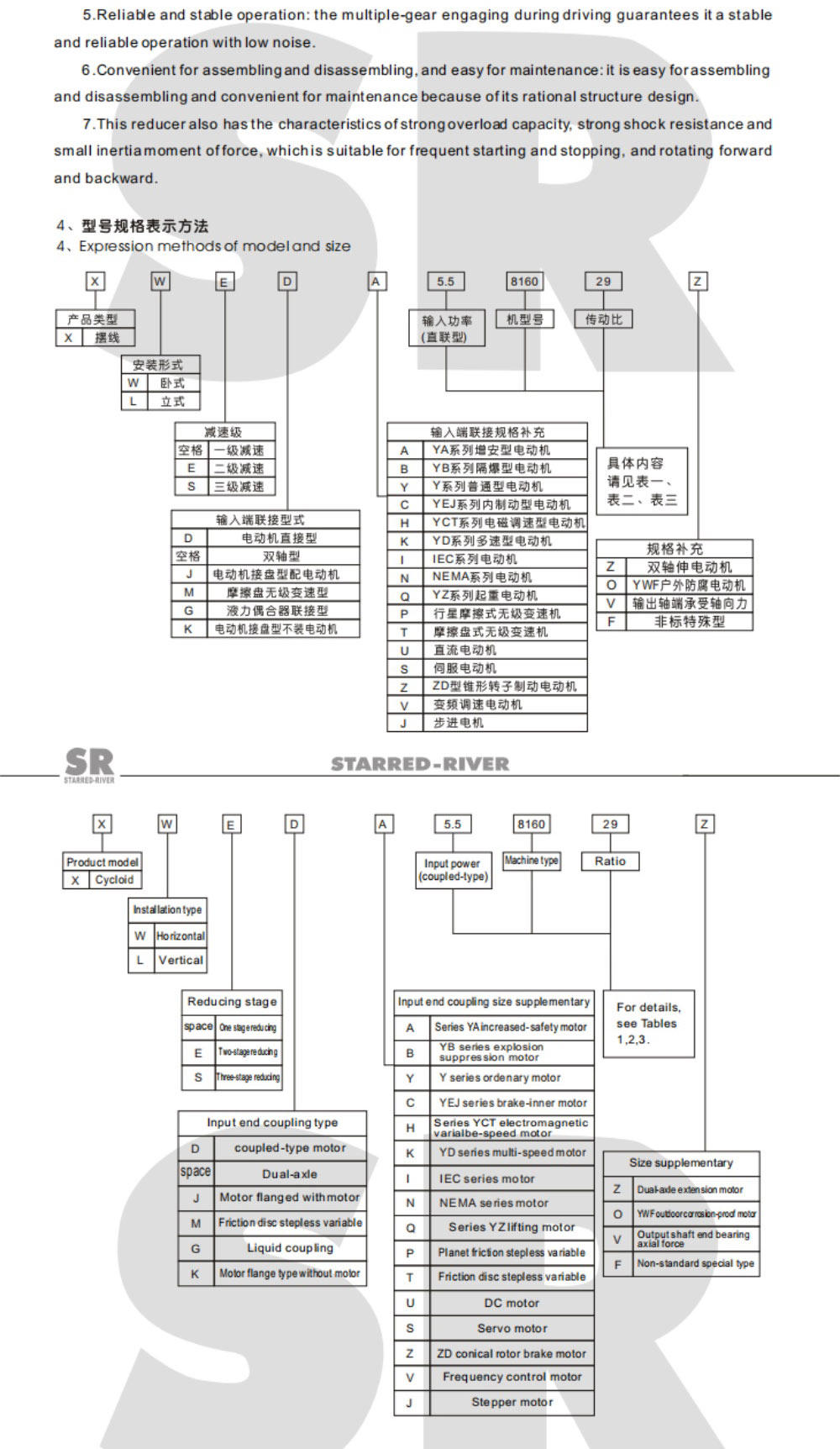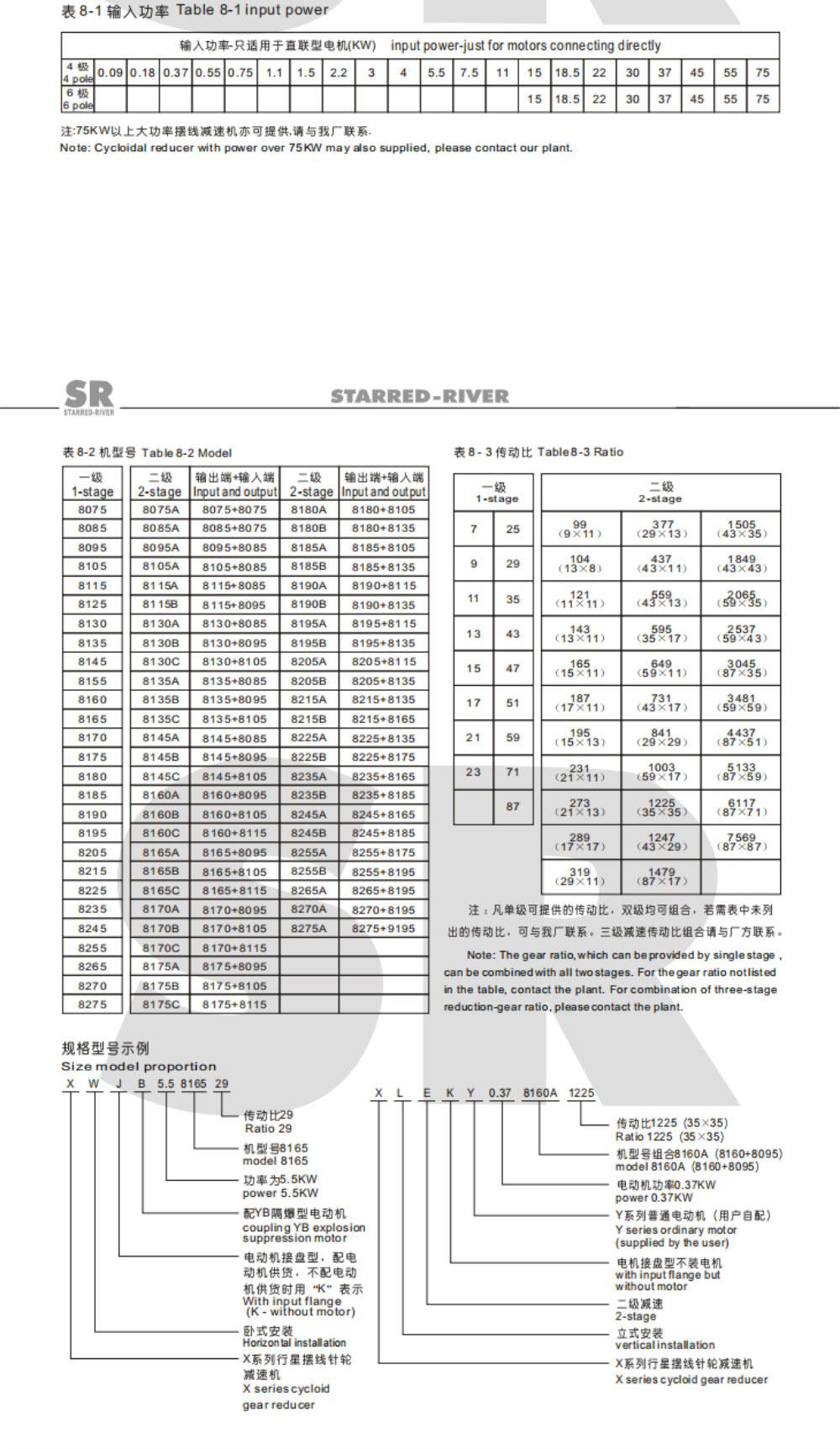 Order symbol: