Overview:
R series explosion-proof helical gearmotors is a machine that realizes mechatronics, high transmission efficiency, low energy consumption, and is mostly used in metallurgy, petroleum, mining, mixer, sewage treatment and other machines.
Brief introduction of products:
Derived from Y2 series(IP54),YB2 series explosion-proof three-phase asynchronous motor is the upgraded model of YB series.Main characteristics have reached international advanced level in 1990' It has higher level safety protection measures to make it to be safer and more reliable. It can be applied in occasions that require higher safety standard,such as coal mine and those factories that contain volatile mixed air.
YB2 series implement the standard of JB/T7565.1-2004(YB2 series explosion-proof three-phase asynchronous motor technical qualification) and has obtained the explosion-proof certification. It consists of 15 frames ranging from 63 to 355,with a wide power range from 0.12 to 315KW,totally 82 specifications.It has two types:dⅠand dⅡ,with dⅠapplied coal mine and dⅡ applied in factory.
Characteristics:
Highly standardized,unversal design. The installation sizebasically the same as YB series.
The motor has a unique design of parallel and vertical radiating slices which not only improve the radiating capability but also make the appearance more elegant.
Insulation class:F
Working conditions:
Ambient temperature: dⅡtype -15℃≤θ≤40℃, dⅠtype -15≤θ≤35℃.
Elevation: Be lower than 1000 meters
Relative humidity: Not higher than 95% for dⅠ. Not higher than 90% for dⅡ.
Rated voltage:380V,660V,380/660V.
Frequency: 50HZ.
Cooling method: IC411.
Protection class: IP55.
The installation type of the motor is IMB3; IMB5; IMB35; IMB14; IMB34; IMV1, etc. 6 kinds.
Model explanation: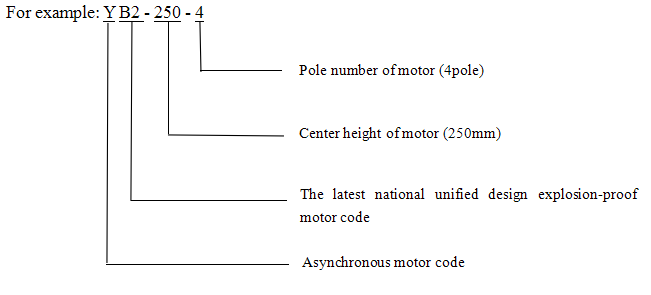 Explanation of explosion-proof motor model: